NEWS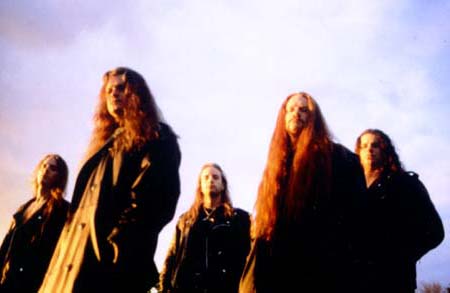 (Aug 9) The three disc version of Alive in Athens seems to have been pushed back yet again. However, the two disc version is now available from Century Media's website for $15 (I'd recommend waiting for the full version). If I get around to it I'll post the other two covers from the album on this site under the Alive in Athens section. If you're getting impatient, there's an mp3 on the official site.

(Jul 23) Bad news for North American fans like myself ... Alive in Athens has been pushed back to August 10. It was released in Europe earlier this week. From what I have heard it sounds awesome, and the artwork is supposed to be amazing. I can't wait. Tempting to get the vinyl version for the bigger artwork, isn't it? In other, much less important news, that won't interest anyone but me, I got my Watcher shirt in the mail today.

(Jul 10) "The 3 digipak CDs in a large-scale box" (from the Century Media newsletter). So we'll be getting a boxed set (I doubt the two disc version will be though). If you haven't seen the tracklisting already, I've got it posted here, along with the completed cover.

(Jun 28) I'm finally done all my final exams and I can get back to this page. Anyways, I'll stop boring you with that. I've posted the track listing and the complete cover for Alive in Athens. Order it from Century Media on July 27 (or get the two-disc version in stores). This is old news, and no one but me will likely care, but I actually did get the Melancholy EP from Century Media. I managed to get #15, let me know if anyone's got a lower number than that.

(May 1) An incomplete cover of Alive in Athens (which apparently is the name of the cd) was revealed on www.icedearth.com. It looks awesome, probably their best cover yet, and it's not even complete! Click here to see it!

(Apr 10) Not much has happened lately, but, unfortunately I think the Melancholy EP is sold out already and I'll end up getting a credit slip in the mail. Century Media has removed it from their catalogue on their webpage (which has been recently updated and looks great), so it's probably gone ... Mp3's of the two cover songs are available from the Official Iced Earth Page, so if you missed out on the EP go check them out! Soon I'll be making a news section to put all this crap under ... just when I get around to it.

(Mar 17) Live in Athens will be released on June 21 in Europe. It appears it may have a different title, since Century Media's page left it as "TBA".
From the official Iced Earth page: "Iced Earth are due to release a Limited Edition, Hand Numbered 5 track Mini CD.... "MELANCHOLY" features three Iced Earth originals, "Watching Over You", "I Died For You" and the title track along with covers of BAD COMPANY's "Shooting Star" and BLACK SABBATH's "Electric Funeral"....Only 2000 copies are being pressed." so I'll have to get a copy as soon as it's released!!

(Feb 26) Century Media said this about the single: "It will be sold through mail-order, so you will be able to get it; we'll
probably have it in stock in May."

(Feb 22) The Iced Earth radio promo, which is now complete, will now contain Electric Funeral by Black Sabbath instead of Last in Line by Dio. They've been playing Electric Funeral at some of the live shows, and I've heard plenty of good responses about it.
Live in Athens will be a double cd. Century Media had this to say: "Iced Earth recently returned from 3 sold-out soccer stadium shows in Greece which were taped for a double live album to be released this summer. The reaction to the band there was overwhelming, as at times they were treated by fans in a Beatle-esque manner. Iced Earth are now on a headline tour of the US with Jag Panzer, Anvil and The Quiet Room. Look for the band at the Metal Meltdown festival in Asbury Park, New Jersey in mid-March"